Riding a motorcycle is an exhilarating and thrilling experience, but it is also hazardous, especially in traffic. People who need to navigate a bike through traffic, need to be more aware than anyone else on the road. The rules are different from the defensive driving techniques of cars, buses or trucks.
One of the first things that good riders learn is to study other drivers on the road. Riders need to be fully aware of the way that drivers turn their heads so they can anticipate which way they may be going. Not all drivers on the road apply their signals as accurately as riders would like, so it is essential for them to be aware of the other behaviours of drivers out there. People will turn their head the way they are turning, even if their signals say something different. Good riders use their mirrors a lot, which allows them to keep an eye on everything. They are the best tool for maintaining a constant view of their surroundings.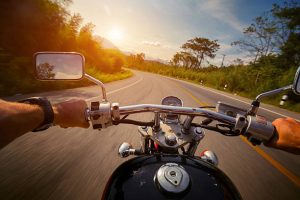 People who ride motorcycles on highways should avoid pulling in between vehicles and a side road. It is really easy for a motorcycle to fall into another driver's blind spot. Driving into a small space without an escape is dangerous. Riders can easily be pushed off the road, and a side road is a dangerous place to lose your lane.
A motorcycle is not what the driver expects to see on the road, and it is also small enough for them to assume space is clear. That's why riders need to cover their brakes at all times. They do this by hovering two fingers over the brake lever, with one of their feet on the brake pedal at all times. Covering brakes allows a rider to be ready, whenever something unexpected happens on the road.
Another way to avoid unwanted accidents on the road is for motorcycle riders to wear bright clothing, use reflectors on motorcycle clothing or use other lights to make sure that other drivers can see them. Good riders know to stick to one side when the traffic ahead slows down. At a stop light, it is best to choose a lane and stick with it, which helps the riders avoid getting rear-ended. On a motorcycle, there are no
small accidents. A tiny mistake can be fatal when riding a motorcycle, but learning how to do it well can eliminate some of those fears.
People who ride motorcycles a lot become pros at paying attention to the pavement, as well as the other drivers. An oil slick, sand or dirt can change the way that a motorcycle handles, and good drivers can stay in touch with what is below them at all times. The rules of the road become natural, the more a person rides their motorcycle in traffic.